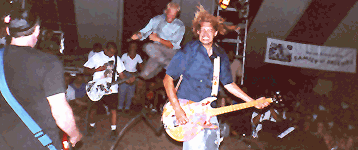 ---
these pages are no longer being updated
check out the


pages to see what's going on these days
---
here's the skinney, Mac
This was updated on June 13th, 1998

---
---
Jump to info on
---
A new best-of release is due out in June '98 called 8 Years to Nowwhere and has about 25 songs including some live versions and new songs.
Meanwhile Andrew (vocal) and brian (bass) have teamed up with Bryan Gray (the blamed, left out. etc) and about 5 or 6 other folks (including Andrew's wife, Robin) to form a new band called Ballydowse (taken from the movie War of the Buttons).
It's a mixture of old-school punk, oi, and various folk/world-beat and experimental ideas. In addition to the basic raunchy guitars, bass and drums, you'll also hear violin, mandolin, bagpipes, bodhran, handdrums, didgeridoo, whirligig, and whatever else we happen upon.
You can check it out for yourself at the Cornerstone Festival '98 underground stage
---
---
the remainder of this page is old news
---
---
what we did at TOM Fest1997
Unfortunately, the 4 or 5 shows leading up to the TOM fest all fell through, so our apologies to those who may've been hoping to connect with us along the way. The TOM fest itself was great! Our set went well and we got to talk to alot of people. It was especially nice to hook up with alot of old friends that we don't get to see that often (most notably all the folks associated with The Clergy). And Andrew got a visual Celtic interpretation of Isaiah 11 put on his arm by a friend who had a homemade tatto gun made out of an old Tyco train enigine.
---
our experiance at FREAKSTOCK 1997 in Germany.
Well, since everthing was so last minuete we ended up just playing the Freakstock festival in Gotha, though we had hoped to get a couple more shows in. maybe next time.
The festival was pretty cool and had around 1500-2000 people there (i think) with alot of really good German bands that i had never really heard before (The Circumcised, The Absorbed, My Friend The Fawn, to name a few) The only other American there was Tess Wiley and she had My Friend The Fawn as her backing band. There were also a couple British pop bands as well (Now that i think of it one of the British guys doing a Drum+Bass DJ thing was originally from Brooklyn). Our set went pretty well, though we had forgotten to bring any tuners, so about a third of the way into the set our guitars couldn't quite get in sync with each other, so 3 or 4 songs had quite a dissinant flare to them. Fourtunately, one of our friends went around and beat the bushes for us and came up with a couple tuners, saving us face and everybody else's ears. After that things went really good, and the group of people there were kind enough to stick it out with us through the problems. It seemed that everyone there understood English well enough to understand what Andrew was talking about between songs, at least they all reacted in the right places. (actually we had started out with an interpretter but it wasn't really working out that well for a number of reasons so we just decided to stick to English). So it seemed a good time was had by all at the show. i even bounced my bass across the stage a few times at the end of the set just for grins.
After the festival (which was in a little village called Gotha) we trekked up to Hamburg to hang out at the Jesus Freaks Marquee club. Suzanne, who had just gotten back from a year in America and spoke impeccable American English, was kind enough to show us around her striking home town while we were there. It's just to bad we weren't around long enough to play the Marquee club, it looked to be an awesome place to play. But we had to get back to the states and had a 30 hour travel day ahead of us.
All in all, it was a great time. It was great to meet the Jesus Freak group and hopefully we'll do some more shows with them in the future. Hopefully i'll be able to post a few pictures of the trip before to long.
---
What went down at CORNERSTONE FESTIVAL1997
Despite the power being out on the whole festival grounds for about three hours everything went really well the day we played (Wed). We ended up doing the communion service while the power was out, so we just had our friend Tony, from the Crossing, come by with his acoustic guitar and made the best of it. Every one really got in the spirit of things and we had a great worship time. So the power being out almost made things work out better. Shortly after we got done with communion the power came back on.
Crux opened up the music with an energetic set and got us all pumped up. Our set went well, though there was a minor mishap where some one in the crowd sustained a minor injury -- we played it safe and stopped things until the situation could be properly taken care of, but it turned out to be no problem in the end. Anyway, we had a good time and it seemed to be fun shared by everyone. People responded well to what Andrew had to say as well, it was one of those nights where you feel like you could start a revolution. The Israelites closed up the night with a stellar set. Even though the first-wave/roots Ska they offered up was a bit of a departure from the rest of the music that evening, the crowd effortlessly switched gears with them and hung in there until the very end.
The rest of the fest held many great sets all around. we invaded the Left Out set for the song Abuse and had a raucous time of it.
---
OUTER CRUSTis out on the street and available now by mail order from 2Jake Records or Grrr recordS.
---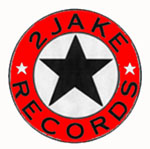 ---
This site will be routinely updated to include contact phone numbers, mail order addresses, release dates, location listings of stores carrying the disc, as well as a host of other information. So please check back frequently.

back to the CRASHDOG Home Page