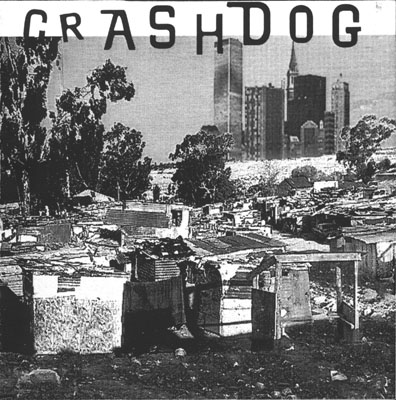 *** OUTER CRUST ***
Recorded Fall/Winter 96 with Steve Albini's help
a D.I.Y. project by crashdog available through:
2 Jake Records
2360 W. Wolfram, Chicago, IL. 60618
773-252-1812 ext. 124
or e-mail Greg
---
go to the song list
back to the CRASHDOG Home Page
---
This is the millionth version of some kinda letter to you, whoever you are. We wanted to write something to go with the songs and open up what we are feeling. I guess it is easier to feel than to write. We are not really selling anything. It's just that if all there is to this "scene" is the surface slop then we don't want anymore to do with it. At times the Underground, or whatever you name it, has been a let down. The new walls that lock out seem the same as the old walls. The supposed reign of freedom seems to degrade into simple enslavement to our own bent desires or, worse, those of the "scene." The only ideals tolerated by many are those so drowned in relativism that they become disposable ethics. While crying constantly for justice and freedom we embrace a worldview that empties them both of solid meaning. Where do we go from here? See the nihilistic road to its inevitable conclusion and do away with concepts like truth, love, and rights, or turn back and reconsider our rejection of absolutes.
Sometimes the search becomes a lifestyle and rebellions continue on even when the only enemy left is the rebellion itself. In our efforts to destroy false gods and abusive authorities, have we overlooked the possibility of a true God or leader to be followed, not mindlessly, but in full knowledge of who He is and where His road leads?
We have chosen to follow Christ in His path of mercy over judgement, community over individualism, compassion over selfishness, the very light over our past darkness.
This is hard for some to hear, and in truth much evil has been done and continues on in Christ's name. Even recently in America the politics of fear and greed have loomed large, and some calling on God's name have turned their hearts away from everything Jesus taught. Any coalition without our Lord's heart of sacrifice and mercy, and strangely lacking His love for women, children, and the poor, is more aptly named the Christless coalition than any other. That fools and pigs wish to whitewash their scams in God's name only shows how blind to Him they are. However, He is not blind, and His kingdom will come on earth as it is in heaven. To those who prey on humans, beware, He is not safe.
Like everyone else we had to choose. When every argument has been stated, and all viewpoints reviewed, still a choice will remain. Faith must be put somewhere. To not choose meaning is to trust in meaninglessness, so choose boldly and see it through. For us it was obvious, we had nowhere else to go. It's cold out here, but it's clean and we like it.

---
The Songs
Branded
Proclamation
Planned Parenthood
Violence of Love
Career
Godjudge
Fair Play
Easy Out
Liberacion
More Famouser
Billboard Justice
Millstone Co.
Forget My Name
Had To Be There
---
outside encircling walls we stand
our liberation stories only we will retell
the voice which will sing our song
belongs to us alone
once they forced us out but
now you could not pay us to return

--chorus--
different irons we've all been branded
ugly, weakling, empty-handed
a tribe of broken people rebuilt together
different irons we've all been branded
permanent misunderstanding
a union of misfits lasts forever

like ghosts, we haunt the edges of your world
can you feel the center on which we turn?
astrocized, unified by what exists
beyond the cold reductions and the haze they emit

chorus

from suffering and sorrow we hold no immunity
but a hope is now before us beyond futility
we claim nothing but need alone
despite all your warnings we found a home

chorus


back to the song list
back to the CRASHDOG Home Page
sit yourself down and pull up an easy chair
here's what we are try not to stare
a deficient attention and sexual distortion
this is our share, this is our portion
remove restraint and repress discretion
a mockery of liberation

--chorus--
renounce material captivity
proclaim the kingdom of Jesus Christ

can dreams center on this gaining obsession?
success, lover, longer life, mine, more, possesion
the lovely, civilized, driven man
i know you, i hate you, become you i can

chorus

like battered children we're ducking out
we seen you clear and we're turning about
the shelter we seek is not human made
a kingdom comes, a lie fades...

double chorus


back to the song list
back to the CRASHDOG Home Page



Planned Parenthood


the closest thing we have to a praise song, it has nothing to do with the organisation of the same name.

illegitimate birth for another teenage mother
procedures for reversal had yet to be discovered
a little refugee girl names God the father
no psychiatric wards to keep her undercover

--chorus--
can you see the almighty falling down
inside a peasant woman born on the ground
our only salvation, God became a man
neither one will ever look the same to me again

the scum of a dusty land flock to this crownless one
few power brokers or fortunate sons
no institution founded, no raised up royal city
invisible kingdom built of mercy, faith, and purity

chorus

ignored and rejected by his people and his nation
they fight now to avoid becoming what they hated
and ones who claim his name now war against each other
the words they use are his, but the spirit is anothers

back to the song list
back to the CRASHDOG Home Page



Violence of Love


this song is inspired by the life, work, and writings of Oscar Romero
when you were disappeared, a part of me went too
the consequence of my silence was mostly felt by you
revealed to poor and simple, hidden from those so high above
the only violence that can set us straight, the violence of love

--chorus--
no ambition for power
therein lies our freedom
no man is named our enemy
therein lies our freedom
the violence of Christ is our victory

somewhere in the tortures
God takes the victims place
one all will be told the names, the times, the place
i've lost my taste for vengence, though it surely comes for some
i hope now in conversion and the kingdom that will come

chorus

selfishness falls to the violence of love
vengence falls to the violence of love
hatred falls to the violence of love
every knee will fall before the violence of love

back to the song list
back to the CRASHDOG Home Page
hey there missy what's that on your mind?
i see you tossed out all your papers and gotten out of line
you wanna throw your life away looking for a sign
think of all you're risking just to have a spine

--chorus--
they talk, they talk, they talk, they talk
they shove it in our ears
they say you gotta feed your dreams
to the jaded beast, career
but when you're sitting at the helm
of some misguided corperate plot
you'll not know what victory is
you'll know what it's not

come here sonny we like to start 'em young
you gotta rise above the rest, you must be number one
i still remember the words my wise pappy said to me
"i've no time for play, child, work's my destiny"

wake up mom and dad, can't you understand?
would you rather have your children under the command
of some grinding oncler with another thneed
or living unrespectably for what they believe?

chorus

now i believe in hard work, fingers to the bone
but it's gotta be for more than just my greed alone
or even worse than that, empowering some suit
i'd like to see the love of money underneath my boot

back to the song list
back to the CRASHDOG Home Page
this joy i hold, do i deserve it?
is this pain she wears a punishment?
long life of the wicked, irony of it all
why did you close your ears to their helpless call?
life is more than retribution
though absolutely there is right and wrong
i leap the fence of law and reason
only shadows all along

--chorus--
mercy triumphs over judgement
we talk more than we do
once my faith was illusion
now it's just in you

it all breaks down when we break with you
the death of God is my minds death too
cruelty is just an empty word
if good is just a point of view
if nothing's truly evil, then what can't they do to you

chorus

racked in pain beyond her years, innocent as she can be
would my ranting ease her pain?
who can a cynic free?
i have no answers for this child, though that you always knew
the only questions really asked, what now will i do?

chorus

back to the song list
back to the CRASHDOG Home Page
let's go on a shopping trip courtesy of uncle GNP
with the fearless leaders of the world
we'll dispense health and property
for the pigs at the top, we'll sling the most slop
they need more, more, so much more
it's going fast, it'll never last, pacify the middle class
teach 'em helping hands are crazy
all the hungry must be lazy
bread and circuses we suggest
calm the shouts, make a showing
keep the winds of change from growing
selfish escape, no sign of slowing

--chorus--
one man makes ten times the other
but is his worth ten times his brother?
some bask in food and land and light
while others sink within their sight
we bless it all without a fight
what's a priveledge? what's a right?
fair play...playing fair
you got it, you desrve it
why worry? why share?
fair play

behold the church triumphant, breathing life into worn out lies
who says we must choose between equal yet empty left and right
i'll never buy the line that this is the best we can do
community and fair share
common love and open hands
no empty words and no pipe dreams
no argument stands against what i've seen

chorus

one man dies for all the others
what was lost can be recovered
man needs bread from earth and heavan
neither hunger can be deadened
when a segment suffers the whole is threatened
priceless losses every second

back to the song list
back to the CRASHDOG Home Page
injected dreams and overgrown passions
turn unity to selfishness and physical reaction
before we understand the one the two become
wondering eyes cut the ties and leave each other numb

--chorus--
modern love, completely empty
spirit of the age, lust dependency
i will look to no one but you
this committment will see us through

awakened by your tears, now i see my history
moved only by fear forged in anger
to refuse and resist is our decision
break this miserable repetition

chorus
is there any link between who i am
and what i think i deserve?
what love have i ever given
worth the pain of living with me?

the easiest ways are the deadest ends
reject the pattern, fight, defend
i'm done with this lie of cheap seperation
i spit in the face of your selfish system

chorus

back to the song list
back to the CRASHDOG Home Page
pray, Christian, pray, O that the fires of your hell
might warm the dreams of the poor
all is well, all is well
nothing is well when the weak are held underneath
slow your words, let 'em cease, careless chatter will not bring peace

--chorus--
the kingdom of God is in our midst
silently crouching, now it sits
waiting for it's people to awake
seek the wave before it breaks

build, Christian, build, O if only the guns of defense
that you store, discerned justice and secured
all is well, all is well
nothing is well when a child goes underneath
bear your arms, but show some heart
to subject and silence is not God's peace

chorus

look, Christian, see, O that the masses in your church
would rush into the line of fire
all is well, all is well
a conscious numbed, eased, killed
golden pockets, pockets filled
peace is not found, it's built on sacrafice

back to the song list
back to the CRASHDOG Home Page
i hear, i see the people fall down at your feet
to look to you, to feel, to feed
i watch, i fear how empty we've become
to feast on what a dog would leave

--chorus--
famous envy
envy the famous
integrity left you, can you blame it?
two faced friendly
what would you sell to be famous
here's your trophy, come and claim it

i sense, i taste the falseness that you put on for me
how deeply buried is the reality
what will you be if you become as they are?
you'll be a nothing, 'cause a man can not be a star

chorus

can i be more famouser
please make me more famouser
can i be more famouser
even more famouser

make me even more famouser than you, with the hardest core of all
to the very top, where i can start my fall
back down to the ground where it all began
the pain of it all, being real again

chorus

approval of man, an empty trap
the corperate perspective, it makes me laugh
latest sensation, fool of the week
respect undeserved with a real heavy beat

chorus

back to the song list
back to the CRASHDOG Home Page
human commercials for billboard justice
hand in hand with the merchants of lust
ingraining us since birth with a fasion of rejection
what does this perfection have to do with us?

--chorus--
don't wanna talk like you
don't wanna see like you
don't wanna judge like you
don't wanna be like you
human beauty must be redefined
don't wanna talk like you, see like you
judge like you, be like you
get your sickness out of our minds

even those excluded are suckers for the ruse
we're all guilty parties in this nonsense pursuit
our misshappen, man-made, pretty sensor weilded like a knife
beauty is the phantom in the opera of real life

chorus

have you seen the spirit fall in a child?
rip my eyes out of my head before i'm part of that
bone structure is stupidity, outer forms have no validity
when they over-power everything we are

chorus

back to the song list
back to the CRASHDOG Home Page
word to the corperate bosses and the future elite
a simple message from us to you to bring before your master's feet
written in the blood of the meek of this earth
the ones you'll climb upon to gain the rights of your birth

--chorus--
there's millstones in your future
bleached bones and gnashing teeth
tombstones coming soon
you sold us out...you sold us out
sold us out, saw the future, turned your head, death's distibuter

the gifts that you bring us, they thrill and numb the mind
our downfall awaits us at the end of your assembly line
your poisons and your brews, they rock us in our sleep
but one day you will find that the exploited aren't cheap

chorus

your lust you've named holy, you've sactified you greed
behold now your disciples, on you they wait to feed
survival of the fittest, to some it may appeal
'til the God of the weak and broken closes every deal

chorus

back to the song list
back to the CRASHDOG Home Page
same sources, same land
different paths, different plans
what you value i despise
unending thirst and greedy eyes
wide roads lead to destruction
many hands bent on production
of everything that beats us down
don't look for me, i won't be found

--chorus--
socially, self impeechable
no turning back, unreachable
i'm skipping up out of your game
keep your scene, forget my name

finally cleared my life, finally cleared my mind
right next to you, but you'll never find me
in the circles that you travel in
loser am i? what did you win?
that hopeless half-life i don't miss
or my chance to bow and kiss
this god you've named society
my coming back you'll never see

chorus

same chance, same price
save your breath and your advice
this world you can not sell to me
what we follow, you can't see
leap of the camel, eye of the needle
the lost and lowly will form a people
in your midst, but far away
i see nothing to make me stay

chorus

back to the song list
back to the CRASHDOG Home Page
a stream of consciousness view of our experiance recording this project and other loosely related subjects. if it doesn't make sense to you, that's ok. i guess you just had to be there

back to the song list
back to the CRASHDOG Home Page